Let's be honest here, Wimbledon 2017's first week was not overly interesting. Sure, the women's side of the draw was upset central for most of it, but on the men's side it seemed business as usual and looked like the Big Four would steamroll all the way to the semis and then duke it out for a place in Sunday's final. If I was a betting person, I'd have laid money on it. If I was a prediction person- which as we all know, I'm not- I'd have predicted it.
Let's just say, I'm glad I didn't. Week 2 was, in a word, whacked. Let's start with Manic Monday…………….and no, I don't mean the Bangles song. I mean, the first Monday where everyone and their uncle was playing. It was Monday. It was manic. It was also mega-good tennis. Hope you had your Pimms ready!
MANIC MONDAY- 10/7/17
Where do I start? I guess with the elephant in the room. You know, the one where Rafael Nadal was upset by Gilles Müller in 5 sets (a 5th set that lasted 2 and a half hours and was won by a score of 15-13). One of the Big Four down. I watched that set. I had visions of the '08 Final. Sadly, this 5th set didn't go the way that one did. Müller was stone-cold, heartless, ruthless as he mowed down Nadal. He won his first two ATP titles this year after 17 years on the tour. It was also the first time he'd beaten a player in the top 5. Luxembourg must be very proud. On that note, can anyone name any other famous people from Luxembourg? I'll wait.
 He looked shell-shocked, bless him. But classy move by Nadal afterwards, waiting for Müller to collect his things and walking off the court with him. Heavy blow to Nadal's comeback season, but never mind. He at least got through his match uninjured……………that's not a spoiler by the way.
Elsewhere, it was business as usual as Federer and Murray would win their matches. On the women's side of the draw, it was another early(ish) exit for Angelique Kerber who was upset by Garbiñe Muguruza. Kerber relinquishes her top ranking and early round upset victim Karolina Pliskova will take her place at the top of the women's game.
RESULTS
Roger Federer (3) def. Grigor Dimitrov (11)
Milos Raonic (6) def. Alexander Zverev (10)
Andy Murray (1) def. Benoit Paire
Sam Querrey (24) def. Kevin Anderson
Marin Cilic (7) def. Roberto Bautista- Agut (18)
Simona Halep (2) def. Victoria Azarenka
Johanna Konta (6) def. Caroline Garcia (21)
Venus Williams (10) def. Ana Konjuh (27)
Svetlana Kuznetsova (7) def. Agnieszka Radwanska (9)
Magdalena Rybarikova def. Petra Martic
UPSETS- 5
Gilles Müller (16) def. Rafael Nadal (4)
Tomas Berdych (11) def. Dominic Thiem (8)
Coco Vandeweghe (24) def. Caroline Wozniacki (5)
Garbiñe Muguruza (14) def. Angelique Kerber (1)
Jelena Ostapenko (13) def. Elina Svitolina (4)
DAY 8- 11/7/2017
Today was a relatively quiet day in SW19 after the tumultuous Monday. Well, I say quiet, but if you're a Brit then you must have really enjoyed the day. Johanna Konta scored a thrilling upset win over Simona Halep to become the first British woman to make a Wimbledon semi-final since Virginia Wade. She also officially cracked the top 5, as her ranking will be higher after the tournament. Out of the four games in the women's draw, 3 were upsets, although if you want to call Jelena Ostapenko's defeat at the hands of Venus Williams an upset, then fine. Given the roll she's been on, it did have a certain whiff of upset, but she was playing Venus Williams. Novak Djokovic was the sole men's player in action on the day.
RESULTS
Novak Djokovic (2) def. Adrian Mannarino
Venus Williams (10) def. Jelena Ostapenko (13)
UPSETS- 3
Johanna Konta (6) def. Simona Halep (2)
Magadalena Rybarikova def. Coco Vandeweghe (24)
Garbiñe Muguruza (14) def. Svetlana Kuznetsova (7)
SEMI-FINAL MATCH-UPS
Venus Williams (10) vs. Johanna Konta (6)
Garbiñe Muguruza (14) vs. Magdalena Rybarikova
DAY 9- 12/07
Wednesday was the day it all went wrong for two more members of the Big Four. With Nadal exiting early, it was (definitely, maybe) a matter of time before one or more of the other three succumbed to something. Hint: it wasn't Federer. Good ole Roger scored an easy victory over Milos Raonic, the man who bested him in an epic semi-final last year. Marin Cilic also had an easy day (just another 5 set match) besting the Rafa slayer Gilles Müller. But for Andy Murray and Novak Djokovic, life was very difficult indeed. Murray was defeated by American Sam Querrey in 5 sets and appeared to have re-injured his hip in the process. Word on the street is that he may need surgery and there goes his hard court campaign. Djokovic, on the other hand, retired in the second set of his match against Tomas Berdych with an elbow injury. He too might be for the sirgeon's knife. Tennis elbow, anyone? With his win over Murray, Querrey becomes the first American man since Andy Roddick back in '09 to make a Wimbledon semi-finals.
RESULTS
Roger Federer (3) def. Milos Raonic (6)
Marin Cilic (7) def. Gilles Müller (16)
UPSETS- 2
Sam Querrey (24) def. Andy Murray (1)
Tomas Berdych (11) def. Novak Djokovic (2)    retired
SEMI FINAL MATCH-UPS
Sam Querrey (24) vs. Marin Cilic (7)
Roger Federer (3) vs. Tomas Berdych (11
DAY 10- 13/7/2017
Women's semi-final day at Wimbledon! Sadly, Johanna Konta's fabulous run came to an end at the hands of Venus Williams. Muguruza romped her way to the final with a dominant win over unseeded Magdalena Rybarikova, the only unseeded player left on either side.
RESULTS
Venus Williams (10) def. Johanna Konta (6)
Garbiñe Muguruza (14) def. Magdalena Rybarikova
This should be a good final, although my money is solidly in Venus' court. It's hard to argue against her experience and her 5 Wimbledon singles titles. We won't mention the 6 doubles titles she's won here along with Serena, though. Her last title came 9 years ago, in '08 (same year as that famous men's final). Muguruza to her credit, does have 1 Grand Slam title: you may remember she won the French Open last year.
DAY 11- 14/7/2017
Sam Querrey's dream run had to come to an end- eventually. Right? Well it did. At the hands of Marin Cilic. Granted, it took the Croatian 4 sets, including a first set tie-break, to do so. At some point, Querrey ran out of steam…….as one does when they've played 3 five- set matches in one tournament. It's done wonders for his ranking though. Wouldn't surprise me if he cracks the teens. Cilic becomes the first seventh seed to make a Wimbledon final in the Open Era. That fact courtesy of the BBC's John Inverdale.
Roger Federer's quest for 8 Wimbledon titles is still on after his straight set victory over Tomas Berdych. Give credit where it's due however, as Berdych pushed Federer in the first two sets. But once he'd had his serve broken in the third set, well, it was essentially game over. But Berdych, like Querrey, has had a nice ride and will surely be rewarded with a top 10 ranking when the Championships conclude on Sunday.
RESULTS
Marin Cilic (7) def. Sam Querrey (24)
Roger Federer (3) def. Tomas Berdych (11)
DAY 12- 15/7/2017
Women's Final
Garbiñe Muguruza (14) def. Venus Williams (10)
I expected this to be a more competitive match. I expected 3 sets. I also expected Venus Williams to complete her comeback season a la Federer and Nadal. I got………….none of that. Instead what happened was Garbiñe Muguruza winning in straight sets in an hour and a half under the roof of Centre Court. She becomes only the 4th Spaniard to win a Wimbledon singles title, a group which includes Manuel Santana, Conchita Martinez and, of course, Rafael Nadal (who has 2 titles)
Venus looked flat and tired for the majority of the match and her forehand was missing the court most of the time. But she has had a good tournament, and her ranking will rise. But at the age of 37 after 20 years on the tour, how much does she have left before she hangs up the racket? I hope she sticks around for a while. But Muguruza was just too much, especially after going up a double break in the second to make it 3-0. I think even Venus knew that it was over.
DAY 13- 16/7/2017
Men's Final
Roger Federer (3) def. Marin Cilic  (7)
Well. That was quick. Another final, another straight sets victory. At least, it went exactly the way everyone thought it would. Unless you're a Cilic fan, and then it didn't. It's a shame he couldn't make it slightly more competitive. But he was hampered by an apparent foot injury-it looked to be some pretty painful blisters on his foot and, let's be honest, it's hard enough to walk with them let alone play tennis. The trainer came on twice and he took a medical timeout in the second set. It was gruesome. The BBC has since confirmed that Cilic was indeed suffering the effects of said blister. In fact, the poor man was in tears.
But at the end of the day, injured or not, Cilic didn't really stand a chance. It was a bit like Nadal destroying Wawrinka in Paris. If Rafa is the master of clay, then Federer is the master of grass. It was also a history-making championship: Federer wins a record 8th Wimbledon title, the first player in history to do that; it was also his 19th career Slam title.
If that wasn't enough, he's also won 2 of the 4 Slams this season; Nadal has 1. And the US Open is in a month. Pretty sure Federer is the favourite to win in New York, barring any unforeseen occurrences. Wouldn't it be great if Nadal won and the two of them end up splitting the Slams? 🎶 Let's do the Time Warp again 🎶
So we bid farewell to SW19; it's been a blast these past two weeks! Well, maybe not for some (Murray, Djokovic, Nadal and Wawrinka). When we return in 2018, Court 1 will have its much-awaited roof. But for now the hard court season continues. Stay tuned for a US Open report next month.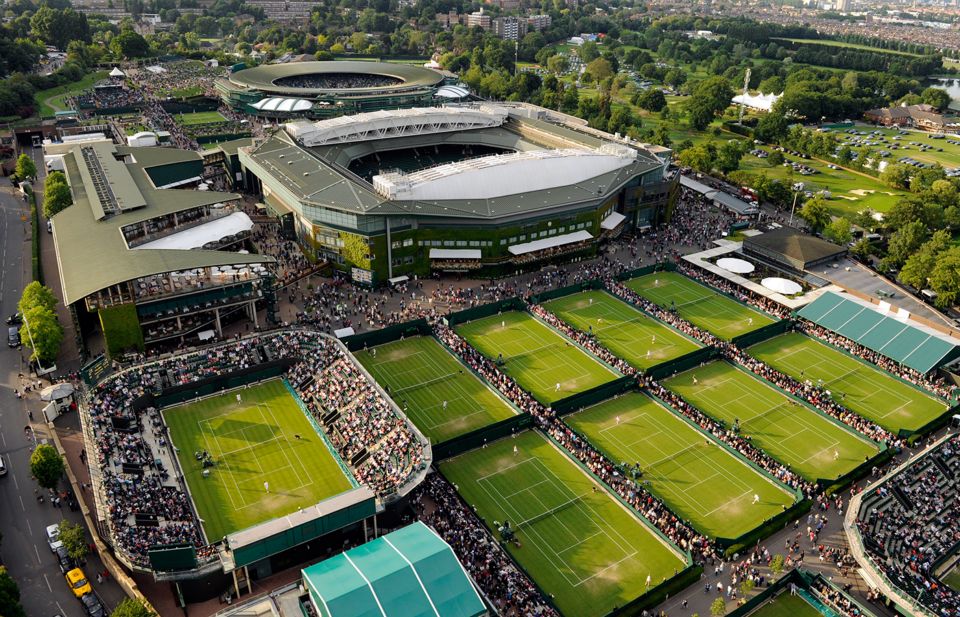 As always, thanks for supporting Splitfocussports. Like and follow us on Facebook and Twitter for updates, articles and the occasional live tweet!