Date: Sunday 6 July 2008
Place: Centre Court, Wimbledon, London SW19
What: Gentleman's Final
Who: Roger Federer vs. Rafael Nadal
Match Time: 4 hrs 48; the longest Wimbledon final in history (NB this is the duration without counting the 2 rain delays.)
Scoreline: 6-4, 6-4, 6-7 (5-7), 6-7 (8-10), 9-7 (Nadal)
Description: EPIC.
Ask anyone who knows tennis about the Wimbledon Men's Final of '08 and they'll say that it was the best match in the history of tennis. And if they don't then they're wrong. It was hyped as the match of the decade, maybe even the match of the century. The two best players in the world, facing off against one another as they had so many times before. But this time, it was different. It had to be different. One had history on his side, at least where Wimbledon was concerned, the other was rewriting history on the clay and looking to make his mark on the grass where he was 0 for 2 in the finals.
That year, Roger Federer and Rafael Nadal were at the top of the tennis world, as they had been for the previous 2 or 3.(Fast forward a decade and they still are, albeit Nadal is world no. 1 currently). Federer was the established star, having won his first Slam title in 2001 at the age of 21 here at Wimbledon. In 2008, he was going for a record 6th straight title in SW19.
Nadal was the new star who had risen meteorically through the ranks after his first Slam victory in 2005 at age 19 in Paris. Over three years, the Nadal-Federer rivalry had become the most talked about rivalry in sport since the Red Sox and Yankees.  Federer was the world no. 1 and Nadal was the world no. 2 and fresh off his 4th straight French Open championship (defeating Federer at that), while also looking to complete the French-Wimbledon double, not easy to do when the two events are about 2 or 3 weeks apart and the transition from clay to grass is one the most difficult things in tennis. Bjorn Borg and Rod Laver were the only other players to have accomplished this feat.  However, Nadal was also 0-2 in Wimbledon finals, both against the Swiss maestro, as they had played the previous 2 finals, with Federer gutting out a 5 set win in '07.
Regardless, the world number 1 ranking was on the line. Federer would hold on to his ranking if he won, that spot would go to Nadal if he won. Federer, of course, was the favourite with his 6 Wimbledon titles. Nadal, playing on his least favourite surface, was not considered to have a chance of winning. History was not on the Spaniard's side, it was safe to say.
Wimbledon writer Linda Pearce described their clash as follows:
'The similarities are in their greatness, and their graciousness, their meticulous planning and preparation. The rest, though. Where to start?
Right v left. Silky, balletic grace v relentless, inspiring brute force. Dasher v bulldozer. Sinewy leanness v bulging biceps. Grass v clay. Single-hander v double. Strut v more stuttering gait. All-time record v head-to-head advantage. Making everything look so easy v always making opponents work so incredibly hard.'
BUT!
Then again, 2008 was an interesting year:
The New York Giants won the Super Bowl putting an end to the Patriots undefeated season (Thanks a million David Tyree…….)
Some guy named Usain Bolt won both the 100 and 200m at the Beijing Olympics and broke 2 world records doing so. And another guy named Michael Phelps won 8 gold medals in swimming at the same games.
Lewis Hamilton won his first F1 championship.
On a more personal note, I was getting ready to move to the SW19 side of the Atlantic for university. It was 2 weeks away in fact. You could say I was a bit……..nervous.
There were many factors that made this match, chief among them being the weather. It was Britain after all, rain was bound to happen. Some of the matches that year had been postponed already and rain had been forecast for the day of the men's final. The weather forecasters said the rain would hold off for most of the day, what they hadn't counted on was Fedal going 5 sets. But that's what happened.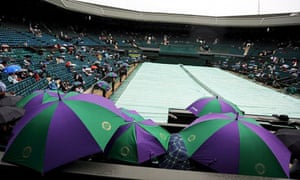 Bearing in mind that at this point Fedal (the tennis world's pet name for them) had played in the finals of Roland Garros and Wimbledon for the third year running. Between them, they held 12 of the previous 13 Grand Slam titles (Novak Djokovic had won the Australian Open in 2008 and this record would be 14 of 15 after Federer won the US Open this year).
To say that tennis fans had been spoiled by the Federer and Nadal rivalry up to this point would be a fair assessment but after this match, spoiled just doesn't cut it. The people on Centre Court a decade ago can consider themselves privileged, even honoured, to have witnessed this match. And I'm sorry, but a TV broadcast just doesn't do it justice.
This piece probably won't even come close to doing it justice either.
The rain played its part even before the match started, delaying the final for 35 minutes, before Federer and Nadal hit the court. The match  had been due to start at 2 pm GMT and didn't get underway until 2.35 (which, for me, in Canada, was the bright and early time of 9.30am)
The first set was won by Nadal, in surprisingly easy fashion, 6-4. In the second set, Federer had that in control, leading 4-1, until Rafa clawed his way back in typical Nadal fashion, until the set was level at 4 all. That was when this match got dialled up a notch, and what followed was, on the one hand, a beautifully played tennis match, and on the other, the most stressful sporting event I'd ever watched up to that point. (That is until the 2010 Olympic hockey final, Super Bowl LI and England v Colombia in a shootout.)
With Federer leading 5-4 in the 3rd set, the rain once again made its presence felt, sending the two tennis titans into the locker room for over an hour, 80 minutes to be precise. During this first rain delay, I was force fed a sandwich, whilst still in my pyjamas, unwilling to move from my place in front of the telly, lest the match start again.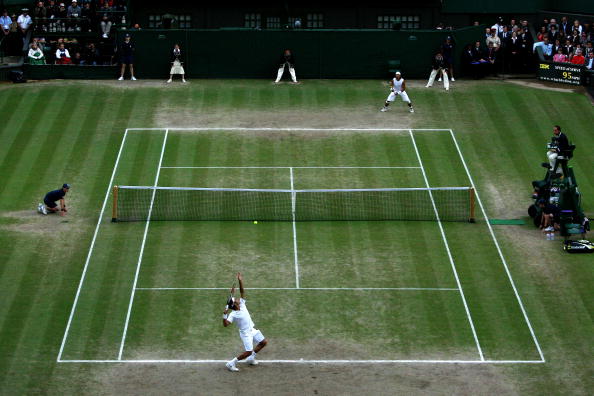 Back on court, Federer rallied to win the third set in a tiebreak. But if I was to pinpoint a single part of this truly epic match as a 'must-see-moment-times-100 it was the fourth set tiebreak, where Federer saved not one, but two match points, to take the set and push it to an all-deciding 5th set. If I were to write about it, I would probably break WordPress (and try my lovely editor's patience) so, here, feel free to watch it. If you've seen it, watch it again. If you haven't well, shame on you, and please, I implore you, it will be the best thing you see today. Maybe.
https://www.facebook.com/plugins/video.php?href=https%3A%2F%2Fwww.facebook.com%2Fwimbledon%2Fvideos%2F10155875425263732%2F&show_text=0&width=476
The rain came down yet again, causing a second delay of the match, at ten to 8 local time (10 to 3 in Canada; this time I was dragged from the house to the local Tim Hortons for an Ice Capp and to get some fresh air. Thanks a lot, Mum!). By the time, play was resumed darkness had started to descend, and the tournament referee was contemplating postponing the match until the next day……………….but he didn't. At one point, Federer was 2 points away from making history, but Rafa, earning himself the nickname 'El Toro' refused to give it to him and broke Roger's serve in game #15. And then in the gloaming, this happened:
After 7 hours, Rafael Nadal was the 2008 Wimbledon champion. He'd taken everything that his greatest rival had thrown at him, and didn't budge. He'd brushed off the two straight defeats (proving that third time IS lucky), achieved the Roland Garros-Wimbledon double, and taken over the top ranking at the expense of Roger Federer. It only took him just under 5 hours, 5 sets, 2 tiebreaks and 3 rain delays………………but as Andrew Castle says in the commentary, 'we shouldn't feel bad for Roger Federer. He'll be back.' It was true then, and now, 10 years on, it rings even more true.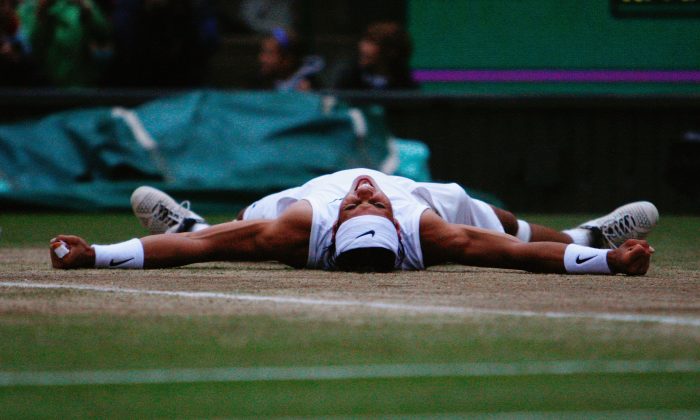 As the darkness enveloped SW19, illuminated in the light from innumerable cameras and mobile phones, Nadal hoisted the Wimbledon trophy aloft. The bright lights made it seem like day, but maybe, just maybe, it was Federer and Nadal who were shining brighter than any flashbulb or sunbeam ever could.
Who could possibly forget Nadal falling to the grass, in his pirate pants and muscle shirt (clearly his on-court fashion has improved over the years, but he was only 22), in disbelief, and climbing into the stands to hug his parents and Uncle Toni. It is an indelible image that will be preserved forever in the halls of SW19; maybe its even more enduring than those of Nadal after he completed La Decima at Roland Garros. I'm not ashamed to admit I cried (I mean, I'd been watching tennis for the better part of 6 hours……..I was tired!), Nadal cried too, and that's okay.
This match serves as a lasting testament to the complete domination that Roger and Rafa had over the men's tour for quite some years.Which is why when both were injured and not playing, not winning, even, tennis fans bemoaned the loss of the rivalry. Thankfully, it's heated up again as both men are now in their thirties, largely regarded to be the waning of a player's career. Just don't tell them that.
So many times over the years, have these two given us the heartwrenching emotional moments that is actually, dare I say, refreshing, in sport. The Australian Open in 2009 where, after losing 5 sets to Nadal, Federer was too overcome to address the crowd and Nadal, trophy in hand, embraced his longtime rival.
Or just last year, when both returned to Australia, and in the final, gutted it out for 5 sets and in his victory speech said that if there were draws in tennis, he would have shared a draw with Rafa.
Even better, when they played doubles together (every tennis fan's dream) and then leaped into each others arms when they won the Laver Cup.
When asked to comment on his rivalry with Rafa, Roger stated, 'We'll talk about it when we're older in the rocking chair. We'll talk about how it all was.'
Can anyone else imagine these two in their retirement sitting around talking about their rivalry? Me neither. More than likely they'll be tearing up the senior citizens circuit as a doubles team or coaching their children.
As tennis fans, we are spoiled. Spoiled by this great rivalry between two of the greatest tennis players of all time, maybe even THE greatest. Spoiled by the mutual respect they have for one another and by the friendship that they share now, a decade later, because as Roger and Rafa have shown us, a lot can happen in 10 years.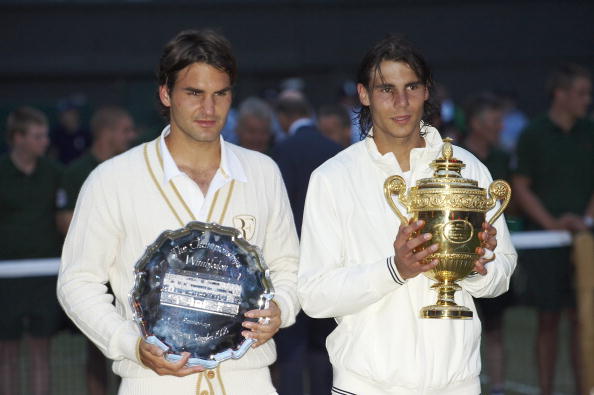 So thanks for the memories you've already given us, Rafa and Roger. Here's to you two making more.
For all your sport blogging needs, follow SplitFocus Sports on Instagram, Facebook and Twitter. Anything you don't see or you have a question or comment, drop us a line.