Court Philippe Chatrier. Roland Garros. Paris. Clay. All synonymous with one name: Rafael Nadal. 10 time French Open champion. Holder of an undefeated record in the finals (and a ridiculously gaudy all-time winning percentage of 97%). Nadal is, undisputedly, the King of Clay. The GOAT in sporting vernacular. His previous 10 wins are in the past: this 2018 Rafa in his 11th (yes, 11) French Open final. Only he and Roger Federer have ever made it to 11 finals of 1 Slam tournament. Only one tennis player, male or female, has ever won 11 titles at 1 Slam tournament (Margaret Court, who won 11 Australian Opens in the '60s and '70s).  Sunday June 10 would be another chapter in the illustrious career of the legendary El Toro. But there was the little matter of the match itself. And his opponent.
For facing Rafa on the other side of the net was Dominic Thiem, the Prince to Rafa's King and, some say, his heir apparent for this title when Nadal hangs it up. Thiem is also the only person to have defeated Rafa on clay this year, in straight sets in Madrid. Which is all fine and dandy, but, in this, his maiden Slam finals appearance, it was always going to be an uphill battle both against Nadal and the history books. 6 men before him have tried and failed, including the great Roger Federer and Novak Djokovic, arguably much greater players than Thiem it must be said. But if anyone could push Rafa just that little bit, maybe it would be him?
1ST SET
Rafa came out guns blazing, winning the first two games, including a break of Thiem's serve. Thiem settled into the match after that, and the two traded games up until 4-4.Rafa had several chances to break Thiem's serve, and while he failed on this occasion, he made Thiem work for it. That one game alone lasted in excess of 10 minutes. Thiem's usually lethal forehand missed the mark on more than one occasion and his backhands wafted wide or smacked into the net. Rafa came to the net more than is the norm for him. Another factor that hampered Thiem in the first set, and in the match overall, was the double faults. Unable to break serve, Nadal promptly broke Thiem's serve to take the set, 6-4.
There were some positives for Thiem though: he managed to make Rafa look foolish on a few shots- and that is not an easy feat to accomplish here. And when his serve did go right, it was difficult for Nadal.
First blood to Nadal then, and the commentary team had already mentioned that the first set was crucial. Had Thiem won it would have gone 4, but if Rafa won then it was effectively match over.
2ND SET
Having broken Thiem's serve to close out the first set, Nadal was first to serve in the second, and he picked up where he left off. It was evident that the Austrian was struggling in Nadal's service games. The tactics he used when he won in Madrid, standing close to the baseline and forcing Nadal to hit shorter returns, didn't work here. And despite the humid (very humid, as Nadal mentioned to the chair umpire at one point) weather, the topspin on Nadal's shots was still often too much for Thiem to handle.
After an hour of play, Thiem was red in the face with little to show for his efforts, having been given the traditional Rafa runaround. Even a time warning from the chair umpire about taking too long to serve didn't faze Nadal in the slightest. To be honest, he probably should have gotten more, but either the chair ump couldn't be bothered or Nadal is just allowed to be Nadal. As Mats Wilander pointed out, giving him a warning would just make him angry, and nobody wants to see an angry Nadal, least of all the man on the other side of the net.
The double faults for Thiem continued, as he committed 2 in the same game and allowed Nadal to break his serve to go up a double break and take the second set handily, 6-3.
3RD SET
At some point during the third set, I got nervous. I started pacing. I was actually…….scared. It's not often that Rafa Nadal makes me this way, but it happened today.
Thiem served first as Nadal had served to take the second set. For a while they traded blows back and forth, until, inevitably, Nadal broke serve again. For a 10 minutes or so it looked like Nadal would put it on cruise control until, inexplicably, when on serve leading 4-2, he pulled up, unable to move his fingers on his left hand. The trainer came on, ostensibly just for an assessment, as ATP rules stipulate that there is no treatment allowed for cramp. The commentary team wondered whether it was indeed cramp or if it was a temporary loss of circulation to the hand because of the heavy strapping that Nadal keeps on his wrists to combat sweat. Whatever it was, it was scary for a few minutes. He came back on court though and held serve. Very easily, almost as if what had transpired a few moments previously had never happened.
During the changeover, the trainer came back on, but only briefly. Back on court, Thiem was serving. Whether or not it was the business with Nadal's hand or whether it was a complete lack of confidence mixed with inability to do anything against the relentless and ruthlessness of the King, the Prince floundered once again, allowing Rafa to break serve again. Nadal would serve for the match then. He got off to a riproaring start and had triple match point, and then Thiem decided to fight back. Soon it was deuce. And then a fourth opportunity for Rafa. And then it was back to deuce. And then finally, on the 5th time of asking (unheard of for Rafa at Roland Garros), Thiem's return scudded long and Rafa raised his hands, triumphant in victory for the 11th time.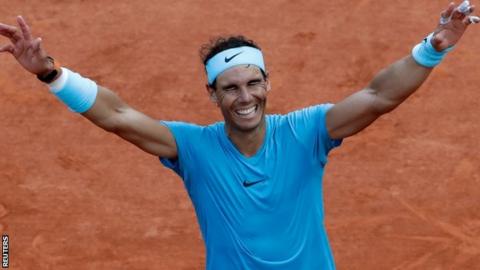 This time around there was no falling to the clay, like the previous 10 times. No, his celebration this time was muted, understated. He congratulated Thiem with an embrace and a conciliatory word. Then he went off, to the toilet, for a shirt change, rather than stripping down on court as he is wont to do at any other time.
On stage for the trophy presentations was Ken Rosewall, who won the first tournament at Roland Garros in the Open era opposite Rod Laver. When asked his thoughts on the match, Rosewall said he was glad he wasn't playing.
Spare a thought for poor Dominic Thiem who looked every inch a beaten man. In his speech he congratulated Rafa on the match and congratulated his achievements saying that its one of the greatest things in sport. And then, just to make us all feel old, he said that he remembered when Rafa won his first title back in  2005, and he was 11 years old sitting in front of the TV, thinking that maybe he could do that one day. He then promptly finished by saying that he hoped to come back next year with better French! Nadal was gracious in victory as always, congratulating Thiem and his, erm, team. Thanking his family (looking at you Uncle Toni!) and friends, the organisers and the fans. The fans who have cheered for all of his titles here and over the last few years have derived satisfaction from cheering for his opponent merely because they want to see more of Rafa than the straight sets demolitions that they are treated to, nay, spoiled by.
And then, for the 11th time- the more I say it, the more impossible it sounds- Rafa took hold of the Coupe de Mousquetaires and raised it aloft. A Pride Rock moment- virtually on repeat, as he's done it so many times before. But there was a noticeable difference now: there was still the cheeky bite of the trophy, but also a gentle caress, the cradling of the trophy that is more or less his. Now he has what is called 'La Undecima.' Whoever came up with that was struggling, I'm sure.
Unlike last year there were no banners or flags, but a 2 minute long standing ovation. The legend was moved to tears; pure raw emotion that the Nadals of years past would not have necessarily showed. Oh, he tried to brush them away, but they ran down his cheeks while the appreciative crowd at Roland Garros applauded him.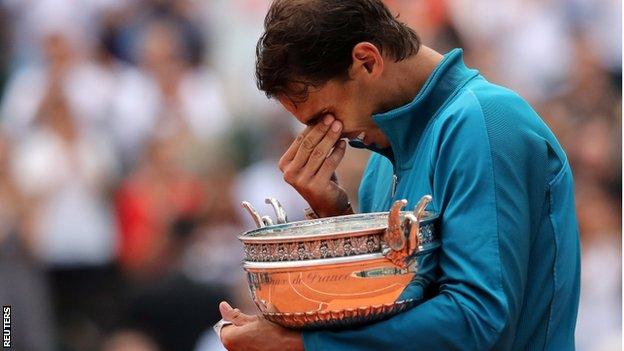 Out of context, a lone figure, standing on a dais, staring contemplatively into a trophy would seem like something out of a tearjerker film, but this is the King of Clay, possibly pondering what on earth he's done in his life to get to this incredible achievement. How it is even remotely in the realms of possibility for this ever humble Spaniard from Mallorca to have reached this pinnacle of tennis. He acknowledged the crowd with smiles and waves and returned from the end of his god-like dais- and it truly is his- to the riser- and us mere mortals- for the official photographs.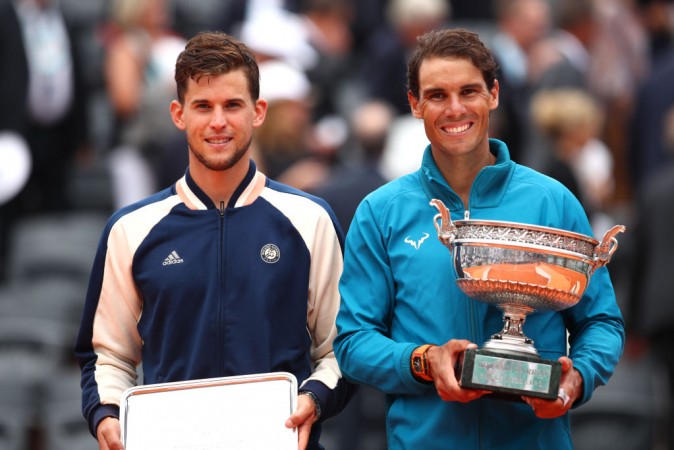 Lost in all this of course was Dominic Thiem, who being in his first final, had no clue which way to look or stand. So there was Nadal, gently coaching him and nudging him in the appropriate direction, every inch the gracious champion and teacher, guiding his heir apparent in the niceties of Slam Finals post match etiquette. I'd better stop now, before I waffle on about Rafa to the point where my editor bans me from ever writing another match report.
Mats Wilander, at the end of the broadcast, posited this question: Is it possible that Rafael Nadal will win 100 matches at Roland Garros. Well, he's on 86 at the moment. If he wins the French Open the next two years running, he'll have reached that. And that is definitely unheard of. #86andcounting. Is there a word for reaching 13 titles? I'd go with unlucky, but that might be jinxing it.
In the press conference afterwards, Rafa expressed his uncertainty about playing on grass this year(!) and stayed mum on his plans for next year. It should be noted that Philippe Chatrier will be getting a roof in time for 2020 so the court that Nadal knows and loves (and is undefeated on, natch) will change…………………..
BY THE NUMBERS
7-  Different players who have played Rafa in the final at Roland Garros and lost: Mariano Puerta, Robin Soderling, David Ferrer, Stan Wawrinka- 2017, Roger Federer- 4 times, Novak Djokovic- 2 times and Dominic Thiem
7- Aces served by Dominic Thiem in the final
8- Different French Open winners since 2000: Gustavo Kuerten- 2000 & 2001, Albert Costa- 2002, Juan Carlos Ferrero- 2003, Gaston Gaudio- 2004, Roger Federer- 2009, Stan Wawrinka- 2015, Novak Djokovic- 2016 and Rafa Nadal (obviously)
8-  Double faults committed in the final, 5 by Dominic Thiem and 3 from Rafa.
11- Titles won by Rafa at Roland Garros.
2- Number of players, male or female, to win 11 titles at the same Slam. Margaret Court won 11 Australian Opens between 1960 and 1973.
86-2- Rafa Nadal's career won-loss record at Roland Garros.
97%- Rafa's career winning percentage at Roland Garros.
14- Number of matches- and wins- needed for Rafa to reach 100 at Roland Garros.
1- Set dropped in the tournament by Nadal; dropped the first set in his QF match against Diego Schwartzman.
54- Titles won by Rafa on clay in his career (1st all-time)
400-35- Rafa's career record on clay (1st all time) For all you statisticians: that's a 91% winning percentage!
37- Straight sets won by Nadal at Roland Garros, until he lost a set to Schwartzman.
3-  Nadal becomes the third man to reach $100 million in career earnings along with Djokovic and Federer.
32- Rafa's age; he is 8 years older than Dominic Thiem and 4 years younger than Federer.
17- Career Slam titles, leaving him 3 behind Federer's mark of 20.
1- There is only one Rafael Nadal.
Unless we clone him.
For now though, please enjoy the Nadal photo gallery below, chronicling each and every one of those 11 titles.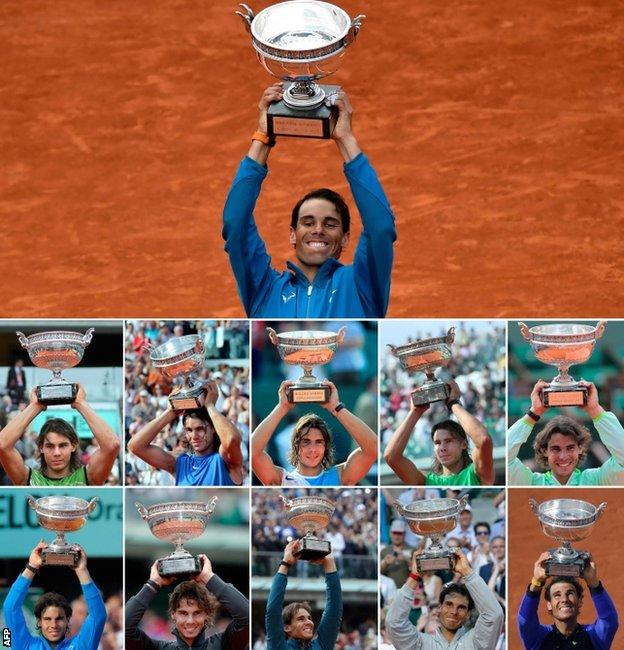 So its adieu from Paris and the clay of Roland Garros (heck, why don't we just name it after Nadal and be done with it?) and hello to the grass court season with Wimbledon beckoning. Stay tuned for my reports from Wimbledon!
For more fabulous and informative sports reads, follow SplitFocusSport on Facebook, Instagram and Twitter. Questions, comments and recommendations welcome!