DAY 9- 05/06
Day 9 saw everything go to plan and was the first day in the whole tournament, so far, where there were no upsets! The last 3 unseeded men's players- Karen Khachanov, Fernando Verdasco and Kevin Anderson- were all sent packing. The last Frenchman, Gael Monfils, lost to Stan Wawrinka. On the women's side, 3 of the remaining 4 unseeded players- Petra Martic, Veronica Cepede Royg and Alize Cornet- saw their runs end. Only 2 French players, both female, remain in the draw: Kristina Mladenovic and Caroline Garcia. Quarterfinals begin Tuesday 6 June.
QUARTERFINALS- 06/06
Pablo Carreño Busta (20) v. Rafael Nadal (4)
Dominic Thiem (6) v. Novak Djokovic (2)
Jelena Ostapenko v. Caroline Wozniacki (11)
Kristina Mladenovic (13) v. Timea Bacsinszky (30)
QUARTERFINALS- 07/06
Stan Wawrinka (3) v. Marin Cilic (7)
Andy Murray (1) v. Kei Nishikori (8)
Elina Svitolina (5) v. Simona Halep (3)
Karolina Pliskova (2) v. Caroline Garcia (28)
QUARTERFINAL WRAP-UP
Tuesday's quarterfinals didn't EXACTLY go to plan. The heavens opened……again. But not to worry, Paris wasn't the only place where 'il fait pleut.' I'm sure we all enjoyed the absolute drenching we got(!) But rain wasn't the only thing that prevented play. At one point, Roland Garros was on lockdown after a suspected terrorist attacked a police officer outside Notre Dame. In the end only 2 matches were completed……..both were upsets.
Timea Bacsinszky (30) def. Kristina Mladenovic (13)
Jelena Ostapenko def. Caroline Wozniacki (11)
A rainout meant that Wednesday would be chocker-block and, let's be honest, every tennis fan's dream with the top 4 men's seeds in action on the same day. It does mean they'll be playing on back-to-back days, but its not like anyone's complaining. While the women's matches went as expected, on the men's side, well, there was drama. Andy Murray survived a first set scare against Nishikori, but ultimately battled through. Rafa Nadal spent very little time on court after his opponent retired due to illness. And the upset card was not filled yet: Novak Djokovic fell to 6th seed Dominic Thiem. While this might be somewhat of a surprise, Thiem has beaten Djokovic on clay twice already this season. Its a good thing Andre Agassi went on vacation and missed it……but something tells me he won't be happy when he gets back.
Andy Murray (1) def. Kei Nishikori (8)
Rafael Nadal (4) def. Pablo Carreña Busta (20)
Stan Wawrinka (3) def. Marin Cilic (7)
Dominic Thiem (6) def. Novak Djokovic (2)
Karolina Pliskova (2) def. Caroline Garcia (28)
Simona Halep (3) def. Elina Svitolina (5)
SEMI FINALS- 08/06
Day 1 of Semi-final action featured:
Jelena Ostapenko vs. Timea Bacsinszky (30)
Simona Halep (3) vs. Karolina Pliskova (2)
In a twist that (probably) no-one saw coming, unseeded teenager Jelena Ostapenko upset Timea Bacsinszky in her semi-final to become the first Latvian player to reach a Grand Slam final and, at age 19, is the youngest player since Ana Ivanovic to make it to play in the finals at Roland Garros. Given how she's mowed down the seeded players she's come up against, she's a threat in Saturday's final. Her opponent? 3rd seed Simona Halep, who was a finalist last year. She upset 2nd seed Karolina Pliskova in her semi-final match. Both players look dangerous, and both are gunning for their maiden Slam titles………..women's tennis is just full of drama these days.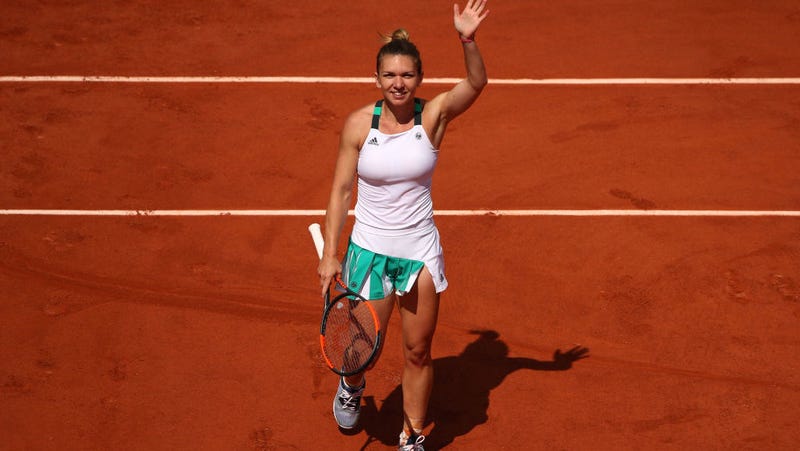 UPSETS- 2
Jelena Ostapenko def. Timea Bacsinszky (30)
Simona Halep (3) def. Karolina Pliskova (2)
SEMI FINALS- 09/06
Day 2 of Semi-finals featured:
Rafael Nadal (4) vs. Dominic Thiem (6)
Andy Murray (1) vs. Stan Wawrinka (3)
Where to start? Well, by now everyone knows that Andy Murray was upset in 5 sets by Stan Wawrinka in a match that lasted 4 and a half hours. Needless to say, Murray was not altogether pleased. Nevertheless, it was a thrilling match (5 setters tend to be) and everyone loves an upset. Going into the match, it could have gone either way, although given Murray's struggles on clay this season and the fact that Wawrinka has won this title before, one would have been forgiven for thinking that this would be the day that Murray (finally) stepped it up a notch. Wawrinka was a man on a mission from the start, even if he did lose the first set in a tiebreak, 4 very long sets later, including a 6-1 fifth, he was the victor. Although, given the events of the second semi, he might (sort of, who knows?) be wishing he'd lost after all.
Which brings us to the King of Clay, up against Domini Thiem, the victor of a hard-fought match against Djokovic, and, in some circles, Nadal's heir apparent for this title, when he retires. Whenever that is. Surely Thiem would make a match out of it and make it competitive, right? WRONG. Surprising no-one, Nadal dominated this match in the exact same way he had every other match in the tournament, dropping 6 games (bringing his total to 28 overall) and winning in straight sets, including a 6-0 third in which Thiem looked exhausted, flat and utterly defeated, which he was. Thiem has been the second-best clay court player over the last season or so, but up against the Master, he didn't really stand a chance, and he left covered in dust while Nadal soaked up the glory of his 78th career victory at Roland Garros. For the record, he's only lost 2 matches in his career in Paris. 2. Let's all just sit back and let that sink in.
UPSETS- 1
Stan Wawrinka (3) def. Andy Murray (1)
WOMEN'S FINAL- 10/06
Jelena Ostapenko v. Simona Halep (3)
If someone had told me that this year's French Open women's champion would be a 20-year old Latvian, 2 days removed from her birthday and in her first Grand Slam final, I'd have probably said 'no way.' BUT. HOLD. ON. JUST. A. DOGGONE. MINUTE. I watched this match……the whole thing. And I rarely, if ever, do that with women's matches. This girl was incredible. After losing the first set, 6-4 and being down 3-0 in the second she roared back. Granted, she made a ton of unforced errors, but never mind that. Her aggressive style of play and a booming forehand is what won her the match. Now, about that forehand: it clocks in at 73 mph. That's faster than Andy Murray's. The only 3 players with a faster forehand: Nadal, Wawrinka and Thiem. That's right, folks: her forehand is one of the fastest in the game, male or female. In any case, she played her heart out and when all was said and done, I don't even think she believed that she'd actually won. Simona Haelp played a great match, though, but she had more on the line: her first Slam title and, had she won, taking over the no. 1 ranking. Speaking of rankings, Jelena Ostapenko has gone from being ranked 47th in the world to 12th; not bad for winning your first ever WTA title, which also happens to be a Slam. Oh, and she says clay is her least favourite surface. Go figure!
UPSET ALERT!
Jelena Ostapenko def. Simona Halep (3)
MEN'S FINAL- 11/06