Tennis
La Decima beckons for Nadal. A 4th Slam title beckons for Wawrinka. Nadal is the favourite on what is, essentially, his home court. Or his favourite at least. If any tennis player can be said to have a home court advantage, it's Rafa on Philippe Chatrier. Coupled with projected temperatures upwards of 34°C, it was bound to be a difficult day for Stan the Man.
Both players walked on court to rapturous applause. Difficult to say who had the crowd behind them though. Let's call it 50-50 and leave it at that. It was nice to see the place looking so full as well, given, what I feel anyway, was a lack of attendance over the last two weeks. Nadal to serve first. Game on.
After a 5 set victory over Murray on the Wawrinka side of things and Nadal having not won a Slam final in over 3 years (although he was runner-up in Australia against Federer) it was only normal for both to be a bit nervous and a bit tight. Even with 10 titles at stake, Rafa maintains he doesn't think about such things…….a good attitude to have to be sure, but not one that I necessarily believe!
Each held serve for the first 4 games of the set, even though Nadal had 4 chances to break serve in the 4th game. It also took 23 minutes to get to that point. From then on it was all Rafa. Wawrinka had absolutely no answer to Nadal's booming backhand and his own notoriously difficult forehand just could not find any open ground and instead hit the net or was pushed out long by Nadal's baseline game, upping his unforced errors count. Rafa, meanwhile, seemed hesitant of Wawrinka's groundstrokes, preferring instead to play short points rather than engage in long rallies that would play to Wawrinka's favour. Stan's unforced errors coupled with his inability to get in any good first serves, spelled his downfall and at the end of the set, Rafa was the victor.
SET # 1: Nadal 6-2
Set 2 went exactly the same way as the first…….Wawrinka failing to gain any ground whatsoever on Nadal's  backhand and was unable to force a break of serve. To be honest, he barely held on to his own service games and in the end Nadal broke serve twice. Rafa shot-making was superb, including a no-look, on-the-run forehand shot which had no business going in let alone winning the point.  ICYMI, here's a link to the video: https://www.youtube.com/watch?v=qRdyTVYUifk
The only thing Wawrinka could do was applaud the effort and wonder what else to do. Several games later, he bent, splintered and broke his own racket, got a new one and promptly battered himself with it. But he was now faced with an insurmountable task: a comeback. But if anyone could do it it would be Stan the Man. Right?
SET #2: Nadal 6-2
Surely now, in the 3rd set, Stan will make a match out of this. Of course he won't add himself to the list of bodies that Rafa has unceremoniously dumped in the corner of Philippe Chatrier in 2017- body count= 6. Surely not. That is, of course, exactly what happened. Rafa was ruthless. Superb. Sublime. Vintage Nadal. The Eurosport commentary team said he was moving and playing as if he was 19 years old again and winning his first title. And they were right. Perhaps he was even more brutal here, closing in on La Decima, than he had been the rest of the match. The pace: relentless. The shots: perfection. Wawrinka: exhausted, willing it to just be over. Rafa, the King: calm, cool, collected, and barely broken a sweat, every inch the Master of Roland Garros. And so it ended, after a lengthy rally, Wawrinka's shot lobbed (not so casually, but maybe willingly) into the net; Nadal on his back, facing skyward, covered in clay, racket tossed 3 feet away. Game, Set and Match. In just over 2 hours. La Decima complete.
SET #3: Nadal 6-1.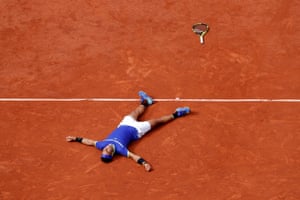 The presentation ceremony was nothing if not emotional, with Rafa fighting back the tears every minute. Don't worry: he held his nerve like the champion he is. But Roland Garros held onto its surprises: in the top bank of seats, fans waved banners  reading 'Bravo Rafa' and '10' in official RG colours, the number 10 was emblazoned on the champion's dais, a video montage of all of Nadal's 10 victories was played. And then, finally, Rafa lifting that trophy for an unprecedented 10th time, and giving it that cheeky bite as he is wont to do. It does give one a shiver down the spine.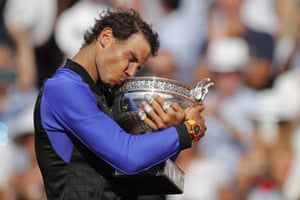 The best part of all, a replica trophy, inscribed with his name and La Decima, presented to him by none other than Uncle Toni, his long-time coach, who is retiring at season's end and handing over coaching duties to Carlos Moya. That was a special moment. Toni Nadal has been a fixture in the coaching box for all of his nephew's 15 Slam titles and he will be missed. It was only fitting then, that they shared this victory together. I confess I might have shed a tear and reached for a tissue at this point.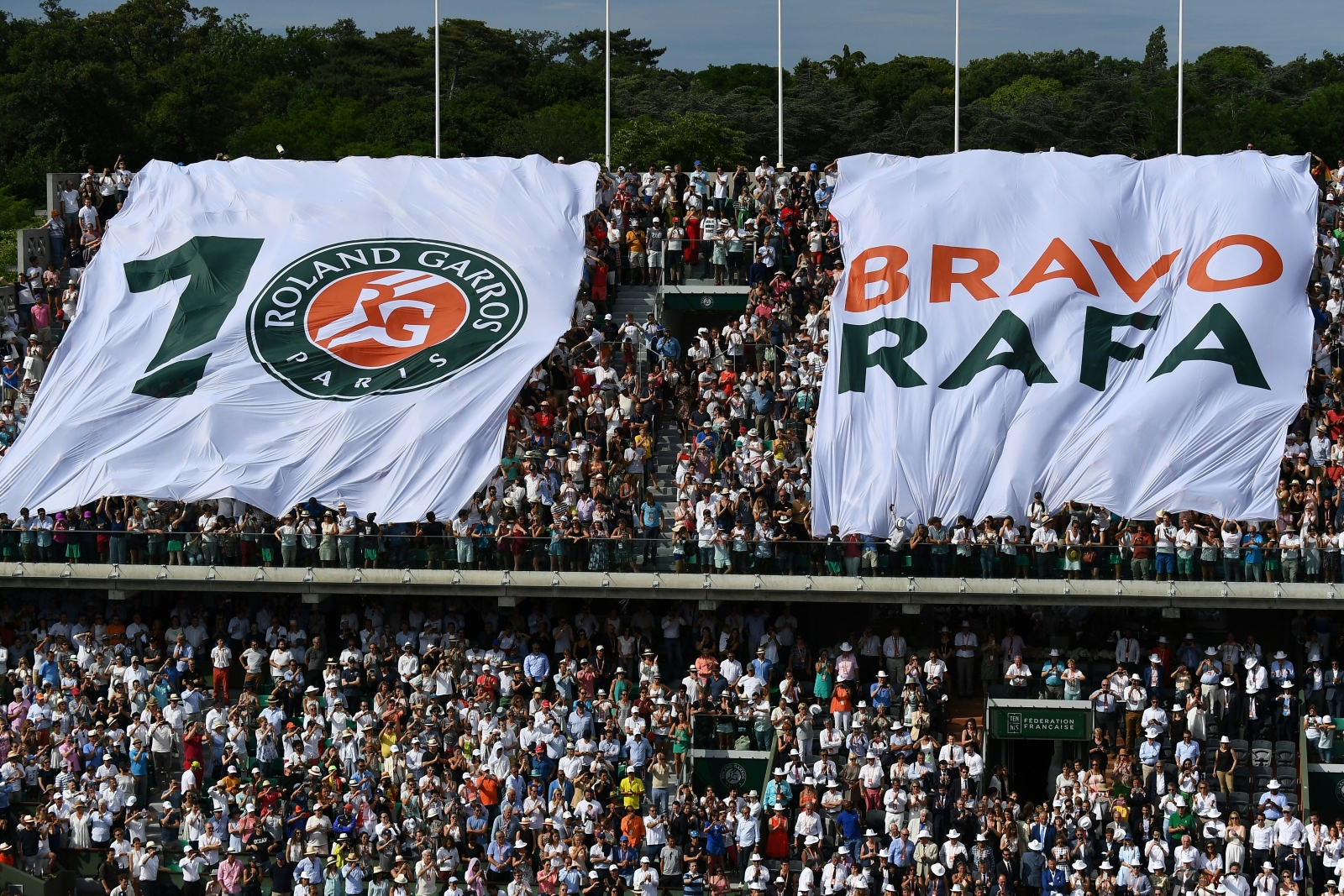 If you missed the final, here's a link to some highlights: https://www.youtube.com/watch?v=QNgE9-0sNjQ
NADAL BY THE NUMBERS
15: Total number of Grand Slam titles, second all time behind Roger Federer's 18.
10: Total of French Open titles (like we didn't already know that!), first player ever in the Open Era to accomplish this feat
3: Number of times Nadal has won the French Open without dropping a set- the other times coming in 2008 and 2010
2: Nadal and Bjorn Borg are the only players in history to win 3 Slam titles without dropping a set
79-2: Nadal's career record at Roland Garros; his only 2 losses were to Robin Soderling and Novak Djokovic (that's a winning percentage of .975, for you stats people out there)
35: Number of games dropped by Nadal throughout the tournament; second only to Borg's 32 games dropped in the 1978 tourney
10-0: Nadal's record in French Open finals. #undefeatedanditfeelssogood #perfection
4: Most games lost in a set by Nadal during the tournament
3: Nadal is the third player to win a Slam in his teens, twenties and thirties; the other 2 being Pete Sampras and Ken Rosewall
ROAD TO WIMBLEDON
The grass court season (such as it is) begins in earnest tomorrow, which means Wimbledon is just around the corner. So what does the French Open mean then? Well, nothing really. It's over, done, fini. However, we have learned an awful lot. Like Jelena Ostapenko, the new no. 12 seed, is now a contender for the women's title- how serious a contender is a matter of opinion. But we should not be discounting Simona Halep, no doubt she'll be looking to avenge that smarting defeat yesterday. Nor should we not consider Angelique Kerber, who retains her no. 1 ranking. And Venus Williams is still a name to put in the hat.
Which brings us to the men's game. With Federer and Nadal splitting the first 2 Slams, good money has them in the Wimbledon finals; and their resurgence is definitely good for the game- even if it does bring us back full circle to the good old days when they were the 2 best players in the game. With Murray being off form and Djokovic seemingly on the decline (don't say that to Agassi though), the dream of a Federer-Nadal final may just come to fruition…….just as well as, for most fans of the game, those seemed like nothing but a distant memory. Because who doesn't remember 2008 and what was the greatest match ever played? It's never safe to count out Wawrinka either. Or maybe this is the year for Milos Raonic to win his first Slam title? The straight answer is: who knows? That's what makes tennis such a great entity in sports. Bring on the Pimms. And strawberries & cream.
See you at Wimbledon, folks!
And as always, thanks for reading and supporting Splitfocussports.
DAY 9- 05/06
Day 9 saw everything go to plan and was the first day in the whole tournament, so far, where there were no upsets! The last 3 unseeded men's players- Karen Khachanov, Fernando Verdasco and Kevin Anderson- were all sent packing. The last Frenchman, Gael Monfils, lost to Stan Wawrinka. On the women's side, 3 of the remaining 4 unseeded players- Petra Martic, Veronica Cepede Royg and Alize Cornet- saw their runs end. Only 2 French players, both female, remain in the draw: Kristina Mladenovic and Caroline Garcia. Quarterfinals begin Tuesday 6 June.
QUARTERFINALS- 06/06
Pablo Carreño Busta (20) v. Rafael Nadal (4)
Dominic Thiem (6) v. Novak Djokovic (2)
Jelena Ostapenko v. Caroline Wozniacki (11)
Kristina Mladenovic (13) v. Timea Bacsinszky (30)
QUARTERFINALS- 07/06
Stan Wawrinka (3) v. Marin Cilic (7)
Andy Murray (1) v. Kei Nishikori (8)
Elina Svitolina (5) v. Simona Halep (3)
Karolina Pliskova (2) v. Caroline Garcia (28)
QUARTERFINAL WRAP-UP
Tuesday's quarterfinals didn't EXACTLY go to plan. The heavens opened……again. But not to worry, Paris wasn't the only place where 'il fait pleut.' I'm sure we all enjoyed the absolute drenching we got(!) But rain wasn't the only thing that prevented play. At one point, Roland Garros was on lockdown after a suspected terrorist attacked a police officer outside Notre Dame. In the end only 2 matches were completed……..both were upsets.
Timea Bacsinszky (30) def. Kristina Mladenovic (13)
Jelena Ostapenko def. Caroline Wozniacki (11)
A rainout meant that Wednesday would be chocker-block and, let's be honest, every tennis fan's dream with the top 4 men's seeds in action on the same day. It does mean they'll be playing on back-to-back days, but its not like anyone's complaining. While the women's matches went as expected, on the men's side, well, there was drama. Andy Murray survived a first set scare against Nishikori, but ultimately battled through. Rafa Nadal spent very little time on court after his opponent retired due to illness. And the upset card was not filled yet: Novak Djokovic fell to 6th seed Dominic Thiem. While this might be somewhat of a surprise, Thiem has beaten Djokovic on clay twice already this season. Its a good thing Andre Agassi went on vacation and missed it……but something tells me he won't be happy when he gets back.
Andy Murray (1) def. Kei Nishikori (8)
Rafael Nadal (4) def. Pablo Carreña Busta (20)
Stan Wawrinka (3) def. Marin Cilic (7)
Dominic Thiem (6) def. Novak Djokovic (2)
Karolina Pliskova (2) def. Caroline Garcia (28)
Simona Halep (3) def. Elina Svitolina (5)
SEMI FINALS- 08/06
Day 1 of Semi-final action featured:
Jelena Ostapenko vs. Timea Bacsinszky (30)
Simona Halep (3) vs. Karolina Pliskova (2)
In a twist that (probably) no-one saw coming, unseeded teenager Jelena Ostapenko upset Timea Bacsinszky in her semi-final to become the first Latvian player to reach a Grand Slam final and, at age 19, is the youngest player since Ana Ivanovic to make it to play in the finals at Roland Garros. Given how she's mowed down the seeded players she's come up against, she's a threat in Saturday's final. Her opponent? 3rd seed Simona Halep, who was a finalist last year. She upset 2nd seed Karolina Pliskova in her semi-final match. Both players look dangerous, and both are gunning for their maiden Slam titles………..women's tennis is just full of drama these days.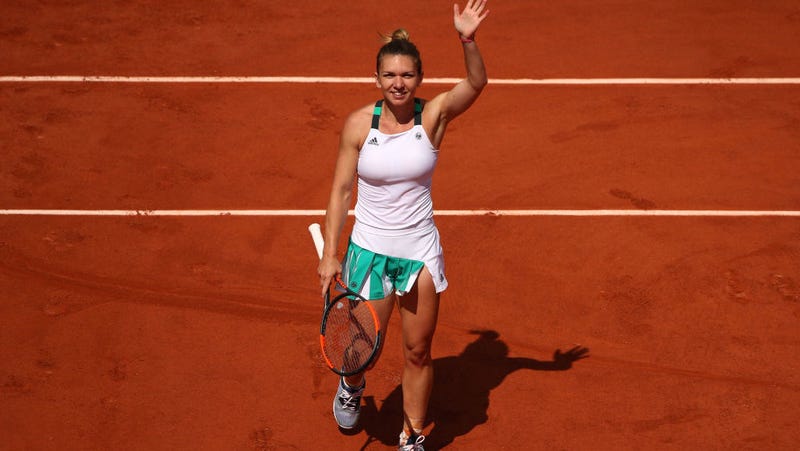 UPSETS- 2
Jelena Ostapenko def. Timea Bacsinszky (30)
Simona Halep (3) def. Karolina Pliskova (2)
SEMI FINALS- 09/06
Day 2 of Semi-finals featured:
Rafael Nadal (4) vs. Dominic Thiem (6)
Andy Murray (1) vs. Stan Wawrinka (3)
Where to start? Well, by now everyone knows that Andy Murray was upset in 5 sets by Stan Wawrinka in a match that lasted 4 and a half hours. Needless to say, Murray was not altogether pleased. Nevertheless, it was a thrilling match (5 setters tend to be) and everyone loves an upset. Going into the match, it could have gone either way, although given Murray's struggles on clay this season and the fact that Wawrinka has won this title before, one would have been forgiven for thinking that this would be the day that Murray (finally) stepped it up a notch. Wawrinka was a man on a mission from the start, even if he did lose the first set in a tiebreak, 4 very long sets later, including a 6-1 fifth, he was the victor. Although, given the events of the second semi, he might (sort of, who knows?) be wishing he'd lost after all.
Which brings us to the King of Clay, up against Domini Thiem, the victor of a hard-fought match against Djokovic, and, in some circles, Nadal's heir apparent for this title, when he retires. Whenever that is. Surely Thiem would make a match out of it and make it competitive, right? WRONG. Surprising no-one, Nadal dominated this match in the exact same way he had every other match in the tournament, dropping 6 games (bringing his total to 28 overall) and winning in straight sets, including a 6-0 third in which Thiem looked exhausted, flat and utterly defeated, which he was. Thiem has been the second-best clay court player over the last season or so, but up against the Master, he didn't really stand a chance, and he left covered in dust while Nadal soaked up the glory of his 78th career victory at Roland Garros. For the record, he's only lost 2 matches in his career in Paris. 2. Let's all just sit back and let that sink in.
UPSETS- 1
Stan Wawrinka (3) def. Andy Murray (1)
WOMEN'S FINAL- 10/06
Jelena Ostapenko v. Simona Halep (3)
If someone had told me that this year's French Open women's champion would be a 20-year old Latvian, 2 days removed from her birthday and in her first Grand Slam final, I'd have probably said 'no way.' BUT. HOLD. ON. JUST. A. DOGGONE. MINUTE. I watched this match……the whole thing. And I rarely, if ever, do that with women's matches. This girl was incredible. After losing the first set, 6-4 and being down 3-0 in the second she roared back. Granted, she made a ton of unforced errors, but never mind that. Her aggressive style of play and a booming forehand is what won her the match. Now, about that forehand: it clocks in at 73 mph. That's faster than Andy Murray's. The only 3 players with a faster forehand: Nadal, Wawrinka and Thiem. That's right, folks: her forehand is one of the fastest in the game, male or female. In any case, she played her heart out and when all was said and done, I don't even think she believed that she'd actually won. Simona Haelp played a great match, though, but she had more on the line: her first Slam title and, had she won, taking over the no. 1 ranking. Speaking of rankings, Jelena Ostapenko has gone from being ranked 47th in the world to 12th; not bad for winning your first ever WTA title, which also happens to be a Slam. Oh, and she says clay is her least favourite surface. Go figure!
UPSET ALERT!
Jelena Ostapenko def. Simona Halep (3)
MEN'S FINAL- 11/06
There is something about the Grand Slams that is 100% more exciting and spine-tingly than the other tournaments in the year: the high probability of upsets, marathon matches (2008 Wimbledon finals, anyone?) and high(er) quality play.  This year's French Open has reached its halfway point and as we go into the business end of the event (the finals are next weekend), I thought it would be nice to write a piece now. I would have written a preview, but with my luck. the fortunes of my favoured players would have all gone to pot…….don't believe me? Look at the AL East Standings.
Having said that, the French Open is my favourite of all the Slams. Controversial, I know. But by all means, feel free to me why I'm wrong. Not that I have anything against Wimbledon- or Australia or NYC- I love Wimbledon; but there's just a certain 'je ne sais quoi' about the orange clay in Paris that just sucks me in year after year. Rafael Nadal's 9 titles there may or may not have something to do with it. I am unabashedly a Nadal fan, have been since his first French Open win way back in '05. 12 years ago for those of you counting. And while that may seem like a long time, consider this: in those 12 years, Nadal has won the title 9 times. a feat never done before at any Slam, let alone clay (which is notoriously the hardest surface to play on). Us sport-minded people like to talk about dynasties, but somehow, tennis is rarely, if ever considered. So, forget all those 'team' dynasties- yes, even my Patriots!- and consider that Nadal isn't called the 'King of Clay' for nothing. This year, he goes for title Number 10 on a court that, come his retirement, should be named after him. Vamos!
Preamble over.
This year's edition of Roland Garros will be interesting for three reasons:
1. The women's title will go to someone not named Serena Williams, who won't be gracing a tennis court until next year because she's expecting her first child. If this is somehow news to you then, surprise! It should also be mentioned that when she won the Australian Open back in Fenruary she was already 8 weeks pregnant. You go, girl! Serena Williams: GOAT? Never fear though, she will at least be in attendance in Paris, supporting sister Venus' campaign.
2. Roger Federer surprised everyone when he withdrew from the tournament, and it's not because of injury, because those days seem to be behind him. While he never gave a reason, it's likely due to the upcoming grass court season and his desire to win another Wimbledon title before he eventually hangs up his racket. Given the short turnaround between the two Slams (2 weeks), it's actually quite an astute move. Didn't stop him from turning up anyway: he was spotted at Nadal's first round match on Monday. Checking out the competition? Supporting a friend? You be the judge.
3. The absence of Maria Sharapova, who was denied a wild card entry by the French Tennis Association. Sharapova, who has been serving her 15 doping ban, made her return a few weeks ago in Hamburg, not too much fanfare, admittedly. Would she have been a contender for the title anyway? Debatable. But if it makes anyone feel better, she probably won't be playing at Wimbledon either. Her next appearance in a Slam will probably come at the US Open in August unless she doesn't qualify for that. Quite frankly, I'm surprised she's not persona non grata everywhere.
SEEDINGS (TOP 10)
MEN
Andy Murray
Novak Djokovic
Stan Wawrinka
Rafael Nadal
Milos Raonic
Dominic Thiem
Marin Cilic
Kei Nishikori
Alexander Zverev
David Goffin
WOMEN
Angelique Kerber
Karolina Pliskova
Simona Halep
Garbiñe Muguruza
Elina Svitolina
Dominika Cibulkova
Johanna Konta
Svetlana Kuznetsova
Agnieszka Radwanska
Venus Williams
With Federer and Serena out, everyone moves up a spot in the seedings, including Milos Raonic, who is the first Canadian tennis player to ever be seeded this high. GO CANADA. And if anyone knows any of the players in the women's top 10 (or seeded 11 through 32) not named Venus Williams, then you're doing better than me! And I watch tennis!
DAY ONE- 28/05
I, for one, love that Slams start and end on a Sunday: it makes everything come full circle AND gives us all something to watch that isn't football or motor racing or…….whatever else. Day 1 at Roland Garros was gorgeous: temperatures in the 30's, blue skies. What's not to like? Granted none of the big names were in action, but there were some good matches. Dan Evans flew the British flag on day one, and was promptly defeated in 4 sets by Spain's Tommy Robredo. The story of the day, however, was the return of Petra Kvitova, the victim of a home invasion in December; she suffered injuries to her wrist and hand, had surgery, missed the Australian Open, and was likely to miss most of this season. However, she looked in fine form, dismantling her opponent, American Julia Boserup in straight sets 6-3, 6-2. Welcome back, Petra!
Staying with the women, it was a tough day for top seed, Germany's Angelique Kerber, who found herself dumped out in straight sets by Russian Ekaterina Makarova. Much was made of her lack of form so far this season, considering how far she rose up the ranks last year; those in the know will remember that last season she usurped Serena at the top of women's tennis for several months, only to end the season at number 2. For obvious reasons, she is the de facto top seed, but nevertheless, her early departure opens the door wider for an already wide open field.
UPSETS: 3
Guillermo Garcia-Lopez def. Gilles Müller (26)
Ekaterina Makerova def. Angelique Kerber (1)
Monica Puig def. Roberta Vinci (31)   It should be noted that, despite being unseeded, Puig is the defending Olympic champion from Rio 2016.
DAY 2- 29/05
Day 2 dawned with more anticipation than the previous day with both the men's and women's defending champions in action and the King of Clay holding court on Suzanne Lenglen. What could possibly go wrong? Nothing, if your name was Nadal, Djokovic or Muguruza. Quite a lot went wrong for poor Jo-Wilfried Tsonga. The Frenchman, seeded 12th at his home Slam, was facing an unseeded Argentine, Renzo Olivo, which looked to be a relatively easy victory……..or so you would have thought. Instead, what transpired was a 4-set marathon, won by Olivo the following morning (after only 8 minutes on court) when the match was called due to darkness. To be fair, it was pitch-black when the tournament referee called it, and as we all know, the venerated clay in Paris is yet to have floodlights (or a roof) installed. Not that Tsonga went down without a fight, he clawed his way back in the 3rd and made some fabulous shots, but give credit where its due, Olivo played a heck of a match.
Nadal, though, had an easy time of it, downing Frenchman Benoît Paire in straight sets 6-3, 6-4, 6-1. Meanwhile, Djokovic wasted no time in dispatching Spain's Marcel Granollers, also in straight sets, and defending women's champion Muguruza saw off Italy's Francesca Schiavone in straight sets. Good day at the office then! Also in action, Milos Raonic, who cruised through his match against Belgian Steve Darcis. Fellow Canuck Françoise Abanda also made it through to Round 2.
UPSETS (7) including:
Fernando Verdasco def. Alexander Zverev (9)
Jiri vesely def. Jack Sock (14)
Nikolox Basilashvili* def. Gilles Simon (31)
* remember this guy, his name will come up again. No spoilers here!
DAY 3- 30/05
Day 3 saw Andy Murray take the court for the first time. His clay court season has not been going well, with several losses on the surface leading up to Paris. Its safe to say that clay is not his favourite surface. Nevertheless, he saw off Russian Andrey Kuznetsov in 4 sets .Compatriot Kyle Edmund also saw action and came through against Portugal's Gastão Elias. Unfortunately for Jo Konta it was not to be, as she departed after a 3-set loss to Su-WEi Hsieh of Taipei.  Flying the Maple Leaf on Day 3: Eugénie Bouchard who made it safely through to the next round, defeating Japan's Risa Ozaki in 3 sets, despite nursing an akle sprain.  Stan Wawrinka, despite a second set tiebreak against Slovakian Jozef Kovalik, went through as well.
UPSETS: 1
Renzo Olivo def. Jo-Wilfried Tsonga (12)
DAY 4: 31/05
It was business as usual for Djokovic and Nadal on Day 4 as Dutchman Robin Haase and Portugal's João Sousa found themselves summarily  and swiftly dismissed from Paris. For Raonic, however, he endured a scare from Brazilian Rogerio Dutra Silva, but prevailed in 4 sets.
Britain's Aljaz Bedene saw his tournament come to an end at the hands of Jiri Vesely, that being said, he seems to have a bright future ahead. Petra Kvitova's return was short-lived as she lost to American Bethanie Mattek-Sands. Raonic's compatriot, Abanda, was decimated by Caroline Wozniacki 6-0, 6-0, bringing her tournament to a rather unceremonious end.
Most of the day's matches were played with few fireworks, but there's always one…………..in the match between American 25th seed Steve Johnson and unseeded Croatian Borna Coric (you may remember he beat Andy Murray a few weeks ago), both became unhinged: Johnson argued repeatedly with the chair umpire, while Coric, after he had lost, took his frustrations out on his poor tennis racket, and a water bottle. I'm sure it won't be the last time we see broken rackets!
UPSETS: 3
Horacio Zeballos def. Ivo Karlovic (23)
Oms Jabeur def. Dominika Cibulkova (6)
Bethanie Mattek-Sands def. Petra Kvitova (15)
DAY 5- 01/06
Day 5 rolled around with all the big names (well, not all, but you get the point) still in play. The most newsworthy story of the day was Argentina's Juan Martin del Potro being an exemplary model of good sportsmanship when he consoled his opponent. Nicolas Almagro, after the latter went down with a knee injury. Poor guy was in tears on the court! J.M. (Can I call him that?) was there, helping him off the court, sitting next to him, and generally being a gentleman. He even carried Almagro's bag for him, as well as his own!!! So, kudos to Juan Martin del Potro for showing that good sportsmanship is not dead, and for generally being a gentleman. Well, they do say tennis is a gentleman's game. Honestly, the guy has more bedside manner than I do!!!! If you want to check it out for yourself, here's a link to the video: https://www.youtube.com/watch?v=OqnkVUvgutU
Andy Murray and Stan Wawrinka sailed through their matches against Martin Klizan and Alexandr Dolgopolov respectively.  Kyle Edmund put an end to Renzo Olivo a day after the latter's stunning 4-set win over Tsonga. Shame.
UPSETS-  5
Karen Khachanov def. Thomas Berdych (13)
P. Martic def. Madison Keys (12)
Veronica Cepede Royg def. A. Pavlyuchenkova (16)
Magda Linette def. Anna Konjuh (29)
Alize Cornet def. Barbora Strycova (20)
DAY 6- 02/05
Day 6 saw two important things: another act of excellent sportsmanship and a superb performance from Rafa Nadal. And by domination I mean annihilation, decimation, domination, beatdown if you prefer. I mean, at some point, I felt sorry for his opponent…..sort of.
But let's start with another example of classy gentlemanly behaviour and sportsmanship (because we like that sort of thing). After taking a horrific tumble during his match, Belgium's David Goffin limped off the court with the trainer and into the locker room. His opponent, Argentina's Horacio Zeballos, when it was decided that Goffin could not continue, carried Goffin's bag to the locker room before returning for his own. This coming a day after his countryman, J.M. (del Potro), was seen consoling his injured opponent. Classy fellas, these Argentines!
Now, might as well just address the elephant in the room…………or blog post, whatever. RAFAEL. NADAL. OWNED. IT. But when you have 9 French Open titles, I guess you're entitled to a complete and utter decimation every now and then. AmIright? That brings us to Nikoloz Basilashvili (I told you his name would come up again), who, unfortunately, was on the receiving end of a Nadal trouncing. This is a guy who's tshirt and shorts both featured skulls, surely in an attempt to at least look intimidating. Heck, the guy had already beaten two world class players in Gilles Simon and Victor Troicki. But on this day, he was outclassed and outmatched by the King of Clay, who, let's be honest, barely broke a sweat in the hour and a half he was on court. Even when he was serving for the match and there was thunder and lightning around Roland Garros, Nadal looked every inch the champion. Its safe to say he got his swagger back. Its safe to say Basilashvili wishes he hadn't gotten out of bed.
Fri 2 Jun
Round of 32·Philippe-Chatrier
Final
| | | | | | | |
| --- | --- | --- | --- | --- | --- | --- |
| | | N. Basilashvili | 0 | 1 | 0 | |
| | 4 | Rafael Nadal | 6 | 6 | 6 | |
Its not every day, a tennis fan sees a scoreline like this, especially in the men's game. I'm pretty sure the one game, Basilashvili did win, was a pity game to save him the embarrassment of a 'triple bagel,' which incidentally hasn't happened in several decades!! Is this a sign of things to come from Nadal?
And both Djokovic and Raonic won as well, as a side note.
UPSETS- 3 including
Pablo Carreño Busta (20) def. Grigor Dimitrov (11)
Horacio Zeballos def. David Goffin (10) – retired
DAY 7- 03/05
Day 7 was a bit of a letdown, as rain suspended play for the whole evening and caused disruption to earlier matches. Andy Murray saw off our gentleman friend J.M. while his comrade, Kyle Edmund saw himself ousted, after a good run, by South African Kevin Anderson. Stan the Man (Wawrinka, not Musial) also went through comfortably before the heavens opened.
On the women's side, Alize Cornet scored an upset victory over 9th seed Agnieszka Radwanska, ensuring at least one Frenchwoman would go through to the next round.
UPSETS- 3
Fernando Verdasco def. Pablo Cuevas (22)
Carla Suarez Navarro (21) def. Elena Vesnina (14)
Alize Cornet def. Agnieszka Radwanska (9)
DAY 8- 04/05
Honestly, I was not intending to take this 'half-baked' article through to Day 8, but today was an interesting day. I mean, for everyone not named Nadal, who cruised easily through his match against countryman Roberto Bautista Agut.  The scoreline was not as…..let's go with gaudy, as Friday's, but dominant nonetheless.  Djokovic also had a relatively easy day at the office, seeing off Spain's Albert Ramos Vinolas in straight sets. In the upset category, Milos Raonic, Garbiñe Muguruza, Sam Stosur, Venus Williams and Svetlana Kuznetsova all waved 'au revoir' to the clay. I'm gutted that Raonic is not going through to the second week, however, it does mean that I don't have to a) pick sides between him and Nadal and b) watch Nadal (potentially) decimate him.
UPSETS-  7
Pablo Carreña Busta (21) def. Milos Raonic (5)
Karen Khachanov def. John Isner (21)
Caroline Wozniacki (11) def. Svetlana Kuznetsova (8)
Timea Bacsinszky (30) def. Venus Williams (10)
Kristina Mladenovic (13) def. Garbiñe Muguruza (4)
Jelena Ostapenko def. Sam Stosur (23)
Petra Martic def. Anastasija Sevastova (14)
So, going into the second week of Roland Garros should prove interesting then. Quarter-final matches start Monday and everything should be wrapped up by next Sunday….barring any more rain delays.
MONDAY'S MATCHUPS
Fernando Verdasco v. Kei Nishikori (8)
Andy Murray (1) v. Karen Khachanov
Kevin Anderson v. Marin Cilic (7)
Stan Wawrinka (3) v. Gael Monfils (15)
Carla Suarez Navarro (21) v. Simona Halep (3)
Elina Svitolina (5) v. Petra Martic
Caroline Garcia (28) v. Alize Cornet
Veronica Cepede Royg v. Karolina Pliskova (2)
QUARTERFINAL MATCHUPS
Jelena Ostapenko v. Caroline Wozniacki (11)
Kristina Mladenovic (13) v. Timea Bacsinszky (30)
Dominic Thiem (6) v. Novak Djokovic (2)
Rafael Nadal (4) v. Pablo Carreña Busta (21)* (don't quote me on this date)
But what have we learned? Essentially, nothing that we didn't know before. The women's title will definitely not be won by a Williams sister; in fact, the race is so wide open you could park an 18-wheeler in the gap. That being said, both the second and third seeds remain in the tournament. On the men's side, however, it looks like Nadal and Djokovic are on a collision course for the semis on their side of the draw while a Murray-Wawrinka clash seems imminent on the other. But with Nadal playing the way he is bearing in mind he hasn't dropped a set- it looks like he's well on the way to that 10th title. But that's not a prediction!
Catch me in a few weeks with a roundup from Roland Garros and a preview for Wimbledon! Á bientôt!